Edutravel to Cuba
If you prefer to travel with a purpose, rather than just for leisure, read on. Here we offer the following options to help maintain your travel-life balance by traveling with an intention to La Havana or Santiago de Cuba: – be it internship in Cuba, study, leisure or cultural immersion, guaranteed fulfillment!
See Testimonials and also our Practicalities and Tips page.
On this educational Cuba tour, you will experience the cultural and humanistic, people to people, charms of the 500 year old cultural city of Santiago de Cuba or La Havana and the satisfaction of collaborating with its people by concentrating on any of the following according to your decision: cultural visits, solidarity events, art exhibits, community service, professional collaborations or internships.
Study in Cuba
You will be invited to attend some of Santiago´s salsa and son performances at night and to practice what you have learnt in the salsa classes. Other classes you can elect to attend are Cuban music, Cuban dance and Cuban cuisine, Tai Chi, Spanish language, percussion, guitar or voice classes. You can volunteer in art or English teaching with children or have a professional collaboration or internship (depending on the duration of your stay) in the area of your expertise. You will have time to see the outskirts and glimpse village life. There are several excursions which also expand your view in the area, with a beach luncheon and a visit to the residence of famous Cuban artists.
This year BEST´s award winning program in innovative educational programs is celebrating its 4th year.  Our mission to immerse you in this passionate culture to truly have you experience Cuba just like a local. People-to-People travel allows even the most seasoned travelers to view Cuba through the lens of the musicians, dancers, artists and locals— an experience that is difficult to find anywhere else in the world.
Internship in Cuba
This program is open to all interested participants worldwide and especially geared for those who prefer to travel with a purpose, rather than just for leisure. There is a certain flexibility in the choice of your activities but our specialty is humanitarian collaboration and internships. BEST will provide you with the guidance for an unforgettable edu-travel experience where you will immerse yourself culturally with the support of our helpful local coordinators that are there to assist and to guide you so that you can spend two to eight weeks pursuing your passions and improving your life and professional experience by means of:
Studying Salsa, Cuban guitar, percussion, voice, cuisine, Tai Chi and/or Spanish language.
Volunteering, Community service or interning in teaching, translation, micro-businesses, tourism, health professions, etc…
This program can be booked by singles, students, couples, or groups of friends and whether you are traveling by yourself or coming with someone else, everyone gets their own personal Cuban dance and/or language partner to make it a far more intensive and rewarding learning experience.
Internship in Cuba
BEST´s vision of professional collaboration or internship in Cuba guarantees you an interesting experience from a Western perspective because of the glimpses it gives of this particular historical and cultural moment. Outside of Cuba we see this "work" experience as an opportunity to network and explore the territory with an eye from those interested in doing business or collaborating further with Cuba.
There is flexible duration of community service and volunteer activities which can last for time periods as short as one day.
If you are looking for ways to help others, community service or volunteering is of enormous benefit to the Cuban people.  We work both with official organizations in underprivileged areas and with cultural centers, art galleries and schools, etc…
We will search for internship in Cuba or volunteer work a la carte, according to the interests and abilities of each participant, in fields such as the arts, hospitality, tourism, events, volunteering and education (in any subject). The goal is to put you in touch with professionals in your area of interest by providing an international professional experience on your resume in a developing country.
As a country where still more than 90% of the economy is under government control we will still set you up with private contacts and with micro-business owners and/or experts in your field of interest for interchanges and professional collaborations which will be outlined in your itinerary to the best of our ability, before your arrival.
Where? Santiago de Cuba  or La Habana.
When? All year, starting every Monday.
Objectives? Developing international career; develop contacts and knowledge in a way that cannot be duplicated in formal classes; Gain a global perspective and a unique cultural adventure. The programs can be customized and we accept special requests, but cannot guarantee jobs.
For whom? Students, recent graduates, professionals and anybody interested in making a social contribution. Note: All internships in Cuba are unpaid.

Areas of interest? Health and welfare, education, hospitality and tourism, dance, marketing, the arts, design, photography and video production, events, etc.
Value added? We will do a la carte searches and take special requests. If we are not successful we allow you to exchange the internship for dance or Spanish classes. We give discounts for every two registrations together (called Come with a Friend) and groups of 10.
Classes you can elect to attend are:
La Habana
Fotografía, español, cocina, baile cubano, percusión, música en general (cualquier instrumento o voz), Tai Chi, masaje, teatro, tour en bicicleta, religión Yoruba. Ask for more info…
Santiago de Cuba
Spanish | Salsa | Cuban cuisine | Tai Chi | Percussion, Guitar, Voice, etc.

Language classes
About the language classes characteristics see information here.

Top
Salsa Classes
The salsa classes are divided into levels and include rueda de casino, mambo, son, rumba and afrocuban dance, etc.
The classes are any day during the week, usually for an hour and from 9 pm for the evenings out, until around 1 am. The schedule is fixed upon arrival by your coordinator according to your other activities. If you feel you need more classes they can be arranged. At night the dancing club entrances give you a chance to practice with your teachers and to see professionals and Cuban dancers performing.
There might be voluntary activities as well which are planned according to performance dates of dance groups in the city, cabarets, salsa concerts, etc. All participants have their own Cuban dance partner.
What is included?
Daily dance class for a minimum of 1 hour.
Private dance teacher.
Cuban dance partner.
Certifictate of participation.
Note: drinks at the night clubs are excluded. It is customary to invite your dance partner to a drink or two.
Top
Cuban Cuisine
Cuban cuisine is a blend of Spanish, African, and Caribbean and Native America influences.
You can spend any amount of your program´s class time cooking authentic Cuban cuisine with private teachers who run the Bed & Breakfasts.  You will be given an extensive bibliography and taught the history of Cuban cooking and how to elaborate any of 30 typical dishes such as ropa vieja, tostones, arroz moro, fricasse de pollo, salsa criolla, etc., all in a really good, professional but relaxing atmosphere.
We also work with the Cuban Culinary Association of Santiago de Cuba which runs a restaurant and accepts our students there to learn by observation and explanation.  The Bed & Breakfast´s offer a more hands-on approach.
Top
Tai Chi
If you've ever seen a group of people moving in exquisitely graceful dance-like exercises in your local park, gym, or community center, you have witnessed the ancient Chinese arts of Tai Chi or Qigong. These ordinary people are improving their health, strength, balance, concentration, and mental well-being—and they are having fun while doing it!
Now with BEST Programs on the upper patio of the Cathedral of Santiago de Cuba you can enjoy the classes yourself, regardless of your current level of physical fitness!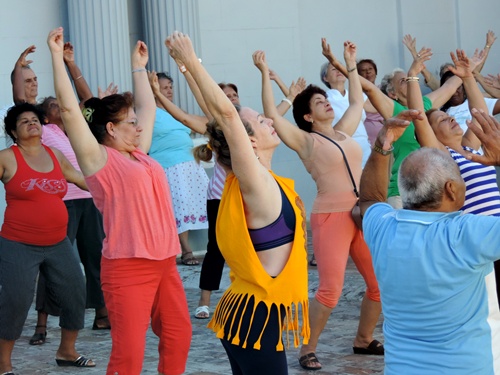 Abdul Nuñez is the teacher of these therapeutic exercises and a Master of Bioenergetic Medicine from the University of Santiago de Cuba.  His system has an enormous following and is based on Qigong and Taoist principles, called Nushentao. Particularly effective for health and healing, strength, power and disease prevention, training is presented on several different levels, mental, physical and energetic, for people of all ages and physical conditions.
See video here.
Top
Percussion, Guitar, Voice, etc.
Whether you are a musician or an aficionado, we offer you the opportunity to study with world-class Cuban musicians and also the possibility of playing and/or accompanying them.
Take full advantage and sign up for the instrument of your choice, including voice, percussion, guitar, wind instruments…  Open to all regardless of level and guaranteed to be an unforgettable experience!
Video here of Ibrahim Napoles, our Percussion teacher in Santiago de Cuba.
Top
Fees:
La Havana Package*
535 euros/one week
900 euros/two weeks
1150 euros/3 weeks
1230 euros/month
1355 euros/5 weeks
1700 euros/6 weeks
1900 euros/7 weeks
2000 euros/8 weeks

Santiago de Cuba Package*
415 euros/one week
600 euros/two weeks
845 euros/3 weeks
870 euros/month
1080 euros/5 weeks
1290 euros/6 weeks
1375 euros/7 weeks
1510 euros/8 weeks

*Minimum one week
*Inquire about discount over 8 weeks
*Inquire about group discount for 10 students
*Inquire about Come with a Friend discount
FEE INCLUDES:
Language classes – Option La Havana and/or Santiago de Cuba
Dance classes – Option La Havana and/or Santiago de Cuba
Internship placement – Option only Santiago de Cuba
Thai Massage course – Option only Santiago de Cuba
Accommodation Guidance (Lodging is not included but we will make recommendations if desired.)
Airport transfers
Cuban conversation and/or dance partners
Multilingual speaking coordinator (English/Spanish spoken)
Welcome luncheon or dinners
Museum or famous sites excursions, including guided city tour, dance parties at local clubs, beach, etc.
Some local transport
According to your program:
Dance course (1 hour daily)
Spanish classes (1 hour daily)
Individual Cuban dance/language partner for everybody
Transfers to salsa matinees, nights, and beach
Club nights out to practice with Cuban dance partners
Internships – (Normally 20 hrs a week but negotiable)
Payment Schedule your package choices:
300 Euros with registration form, deductible from final bill.
Remainder upon issuance of the final itinerary. There is a 100 euro late fee for payment in Cuba upon arrival.
OPTIONAL FEES:
Accommodation – approx. 25 euros/night for bed and abundant breakfast
Translation of documents – 30 euros/page
Transportation except for retrievals
Excursions (see here)
Rush registration – 100 euros
* Please read our refund policy in Terms and Legal Notices.
Link for Currency exchange rates from Euros and USD here.
NOTES:
Language classes
Spanish classes for up to 5 hours a week which includes alternating cultural activities with the classes.
Level testing, diploma, materials.
Cuban language exchange partner.
Accommodation
We will recommend private guest houses or individual apartments. For more information please see our website´s section here.
Orientation meeting with local coordinator: includes city tour, tourist information and transportation details – currency, communication details (cell phones and email), phone number for inquiries locally and safety tips.
Transfers
Airport transfers. We include a service for airport or station pickup which provides a person to be waiting for you at the exit. They will take you to your accommodation. When you depart, we also provide the transfer back to the airport. We require the arrival and departure information with at least one week´s notice.
Internship in Cuba

Internship in an area of your choice. We request that you give us three possible areas.  In the event that no internship can be found or for any logistic reason, your internship is not viable, you will be given excursions or extra classes to make your stay memorable.
NOT INCLUDED:
Communication costs (cell phone and Internet)
Laundry (we try to negotiate at least one load of wash a week with each landlord. You should provide your own detergent.)
Food (Breakfasts are plentiful at the guest houses and meals can be arranged with the landlord or eaten out. We try to negotiate a 5 cuc fixed price for meals with each landlord. Ask you local coordinator about this.)
Beverages
Visa (can be purchased online here.)
Legal Notices, Terms and Cancellation Policy here