Lodging
As a student in a foreign country having adequate housing for your stay is a must. You are free to elect your own accommodation but It is better to have the lodging arranged before you arrive in the country.  BEST's housing policy exists to assist the participants of its programs. At no extra cost, we will find you something suitable and handy. Browse through our photos below.
Types of Housing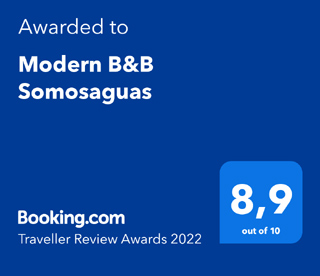 The types of housing that are available to a participants vary depending upon your exact location  in the country.  Additionally the costs of that particular housing will vary according to your location. In some of our locations like Thailand and during the Walking with Heroes July program in Cuba, accommodation is included in the program fees. For all other destinations we provide a free and optional housing search, if you desire.
Each housing option has its own perks and benefits, as well as cons. You should take a look at all of the options that are available, weighing both the pros and the cons, before making the choice as to where you will stay.  The most popular option is the shared apartments with other participants or with locals.  Less popular options are deluxe apartment rentals, a local family or bed and breakfast establishments.
Shared Apartments
Many of our participants enjoy living with a roommate, either another program participant or locals. Not only does it reduce the cost of living, it also allows people to socialize when you are probably alone in a new country.  If you are a people person, roommates could be the best choice for your accommodation.  In shared apartments normally the kitchen, living room and bathroom are shared.
Shared student apartments are our most popular option in Spain. These are normally flats with shared bathroom(s), kitchen and a common area with 2 to 5 bedrooms. Cleaning and upkeep are sometimes provided by the owner. They are fully equipped and centrally located. All of them have Internet. Please see below for cost estimations.  The shared room option is only for participants who come together.  Renters are usually between 18 and 30 years of age and are either working or studying.
Normally included in the price:
Utilities such as gas, electricity, water, etc. and the monthly building maintenance fee.
Wifi Internet.
Landline telephone where local and national calls are free.
Set of towels, sheets and bedding.
Basic cleaning products for the apartment.
Guesthouses
Guesthouses are the most typical accommodation in Thailand.  These are small, traveler-friendly hotels whose services nearly always include an inexpensive restaurant and safe storage for valuables and left luggage, and Internet access.  Guesthouses are purpose-built mini-hotel or a converted home.  The bathrooms are in the room with the usual furnishings for a room including air-conditioner, fan and perhaps a TV and fridge as well.
Host Families
Many host family opportunities are available each providing a highly rewarding experience that will leave you with many memories to cherish for a lifetime.  Room with a local family with either breakfast or half/full board. This type of accommodation is centrally located in a safe residential area with close access to public transport (bus and metro). There are single and double rooms available, including the option of a private bathroom. All bedrooms are furnished with a bed, wardrobe and a chair (at least). There are communal areas which are shared (living room, bathroom, kitchen, etc. ). You will be sent a description and photos.
The options are:
Half board (breakfast and dinner) is the most common option. Breakfast is prepared every morning and the evening meal is cooked by and eaten with the family.
Full board (including lunch is also available if you would like it at an additional cost.
Towels and bed linen are provided. Cleaning of common areas is included. Laundry (either by the host family or with free access to the washing machine).
Please tell us about any allergies, special eating habits/requirements, or any other factor which may be useful in helping us to place you with a host family.
Studio Apartments
Also known as extended-stay hotels, studio apartment rentals are available and an option that many opt for, especially upon first entering the country. Though costly, these apartments provide everything that one needs –from living space to a bedroom area, a kitchenette, on-site laundry facilities, cable TV, telephone and more –all at one price that can be paid per week or month. Studio apartment rentals are available for periods of 30 days to 12 months.
Casa Particular/Bed and Breakfast
This is the Cuban variation of the Bed and Breakfast, a licensed private family-run accommodation. Guests are offered private bedrooms with baths and an abundant breakfast is served in the morning. They usually have no more than 3 double rooms in availability.  Staying with a local family, eating Cuban food, smoking cigars with the home owners and learning about the nation's culture and history from real people is very attractive for an authentic experience.  There are also plenty of state-run hotels in Cuba but they can't be compared to the experience of staying in a casa particular.
In Spanish, the casa particular literally means "private home". In 1997, the Cuban government announced that Cuban families could register their home as a privately owned businesses and rent out rooms to foreigners. This was an enormous step towards economic freedom in Cuba. Before 1997, all accommodation in the country was entirely state-owned and operated. This legalization of privately owned business was one of the first examples of the Castro administration borrowing hints from capitalism but adapting it Cuban style.  Basically these are Cuban home stays, but in our experience there is more privacy in a Cuban casa particular than in a regular home stay that you'd find in other parts of the world.
The family is always there to help you out and chat with you, but you're given a lot of privacy as well. Don't think that just because you're staying in a casa particular that you'll be expected to hang out with the family. They want you to get out and explore their city and aside from some dinners and breakfasts, you'll be left alone to explore and relax.
Student residence
Within walking distance to the school in St. Petersburg. Three people are accommodated in each room and bathrooms are located on the floor. A free Wi-Fi access is available in the dormitory as well as a kitchen on the premises.
Lodging: Examples of Costs: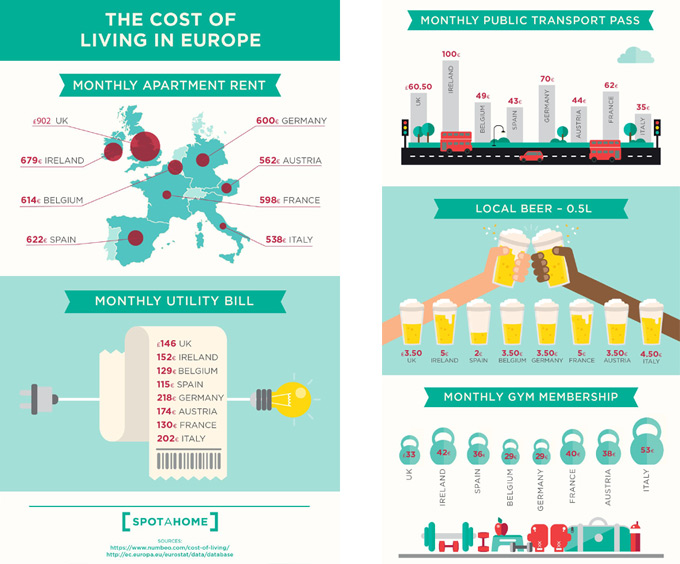 Madrid, Brussels:
Shared Flat

Single: 140 €/week
Double (single use): 160 €/week / (shared): 110 €/week

Spanish Host Family (Breakfast and dinner included)

Single: 195 €/week
Double: 170 €/week
Barcelona, Italy, Medellin:
Single room + breakfast only: approx. 135 €/week
Single room + half board: approx. 170 €/week
St. Petersburg:
Single room shared apartment: approx. 500 €/mont
Room in shared university accommodation for 2 or 3 students: 235 USD/month (approx. 185 Euros). The dormitory is located in the historic city center within a 10-15 minutes walk from the Russian Language and Culture Institute and a 20-minute walk from Nevsky prospect and Admiralteyskaya metro station. Bathrooms are located on the each floor. A free Wifi access and cafe in the building. See link for photos here.
NOTES:
Exact costs depend on individual owners and can continually fluctuate according to season and demand.
You will be sent photos of the exact accommodation and a description with the cost estimate beforehand.
Arrivals usually take place on Sundays and departures on Saturdays.