Cuba Practicalites – Are you traveling to Cuba for the first time? There is nothing quite like it! We have composed this list of practical help to avoid possible confusion and overwhelming. We suggest you read them all.
LAST UPDATED: January 2017. (Bear in mind that Cuba is changing rapidly, so it is possible some things might be outdated soon.)
Americans traveling to Cuba
With the opening of Cuban and American relations things have changed rapidly. For example, there has been a lifting in the travel restrictions to Cuba for Americans as they don't need any longer to apply for a specific license if they fit one of the 12 allowed categories. We can send you the itinerary for the People to People category and anyone can simply go and return without any issues and automatically "authorized".
Arrival and Departure
Be patient at the airport once you arrive since it might take a while to get your luggage. You should bring a bottle of water from the plane in case you get thirsty. You also must be patient at the passport control since they do not work fast. Have your accommodation´s address, travel insurance and return ticket ready to show at the passport control in case they ask.
Attitude
Cuba is definitely not a country that should be visited if you are looking for comfort or a trip where everything runs like clockwork. It is a country for low-maintenance people. It has the advantages of a Caribbean island with the climate, scenery and wonderful beaches. The Cuban government sets most prices and rations goods. With Raul Castro now in power, change is occurring but progress is slow and while crime is not a problem, trickery can be.
So then, why should you visit Cuba? The appeal of Cuba is that is has remained free of western influence and commercialization. It is unique in this way. There are no advertising boards or fast food chains. There are few automobiles. The landscape is beautiful, the beaches ideal and most of the people enchanting. This program was set up from a non-political perspective to give you the opportunities for fun, to learn and for the chance to taste this particular moment in physical time and history. The colonial architecture, history, dance, language and music all add further to its appeal culminating in a unique experience which might be shocking or difficult at times, but which we guarantee you will never forget. Anyone visiting with an open mind, a sense of humor and an adventurous spirit will be more than rewarded by what they find.
Communications
Cell phone rates are not cheap in Cuba, these are the prices:
1 CUC approximately 1 USD
Normal fees:  Everyday 7:00 AM to 10:59 PM
Outgoing calls to cell phones: 0.35 CUC/min
Incoming calls from landlines: 0.35 CUC/min
Reduced fees: Everyday 11:00 PM a 6:59 AM
Outgoing calls to cell phones: 0.10 CUC/min
Incoming calls from landlines: 0.10 CUC/min
Price of SMS: within the country: 0.09 CUC per message; abroad: 0.60 CUC per message.
The international call rates on the cell phone are as follows (also valid for landlines):
Cost according to region per minute (CUC):
United States of America 1.10
Canada 1.20
Central America, Caribbean and Mexico 1.10
Venezuela 1.00
Rest of South America 1.10
Rest of World 1.20
Sometimes there are offers of 1 CUC per minute flat rate.

Activation fee for a Cuban line
You can rent a line and rent a phone for the length of stay in the country; the prices are:
TEMPORARY Activation (visitors):
Rent sim card: 3.00 CUC per day plus the minutes you use.
Rent cell phone (optional): 6.00 CUC per day (If you have a cell phone that accepts sim cards you can use that.)
For more information visit the website at ETECSA

Internet
Connecting to the internet is a bit expensive in Cuba, however, it is not that difficult – at least for tourists – even if the wifi connection is usually slow.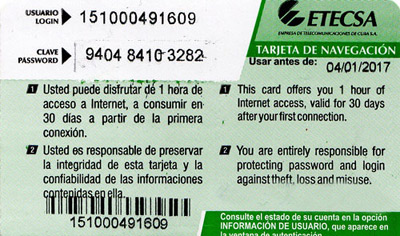 There is a public service of wifi Internet in the main plazas accessed by buying prepaid cards at airports, hotels, tourist facilities and offices ETECSA (telco of Cuba) known as Multiservicios and Telepuntos, where there may be one or more computers enabled as well. Sometimes they run out of cards, even though the computers are working in which case there is always the alternative of buying them from private parties.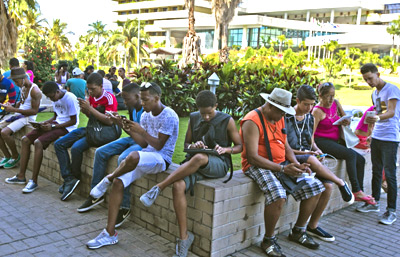 Prices are:
In ETECSA navigation enters, located in Multiservicios and Telepuntos shops the price is 1.50 CUC for one hour. The cards cost 2 CUC and give you 1 hour and 20 minutes.
Scalpers can be found at a slightly lower rate.
Ask your coordinator about the possibility for connecting for less.
Electricity
110 volts is most common in Cuba and the plugs can be flat or round. You should still bring an adapter for the plug.

Flights
Airlines in the US have started to offer flights to Cuba.
For Santiago de Cuba especially but also La Havana we recommend:
For internship participants, we highly recommend flying directly to Santiago de Cuba. For La Habana see jetcost.es. Calling may also be more efficient.
Food
Cuba is renown for many exotic fruits and for its fresh market products. Products can be hard to come by so there may not be much variety. However, their cuisine can be also extremely creative and might surprise you considering the lack of resources.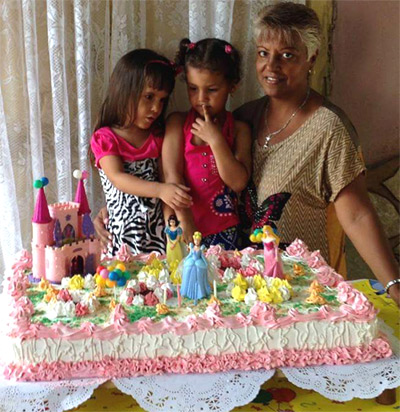 You will probably be okay if you don´t drink any water that is not bottled, boiled or filtered and you are careful with fresh products that might have been washed in tap water. Don´t forget this when brushing your teeth or ordering ice in drinks.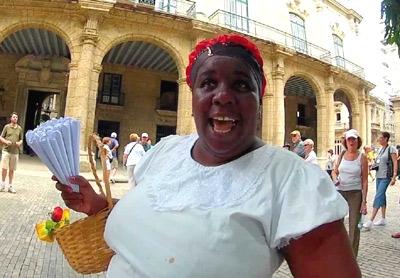 There is not much to snack on either. Once in a while an ice-cream or some peanuts, called mani, sold in conical paper, wrapped by hand. Private vendors carry trays of home-made sweets for sale too. Lots of sugar and coconut are common. All these small items can be bought with National Pesos, so don't over pay for them in CUC.
Below Enchilado de Camarones and a special meal served in a Cuban home.
Insurance
You might be asked for your insurance at immigration and when you go to extend your visa, if you are staying longer than one month.
For online insurance you can check out:
We also recommend ordering your visa online (see below).
Money matters
One of the peculiarities of Cuba is the two currency system wherein you have the National Peso which is 24 times less than the Convertible Peso (CUC). You find shops and items payable in one and the other. Cubans earn in the first at the deplorable rate of 20 euros a month, while we foreigners pay in the second currency for most things. The notes themselves look a lot alike so you have to be careful and keep them separate. The Pesos have pictures of monuments on them and are lighter in color while the CUC have pictures of national heros on them and are brighter. This will be explained to you fully in your orientation with our onsite coordinator. Daily expenses will get much cheaper as you discover what can be paid for in pesos and what requires CUC. Cuban Convertible Pesos (CUC), also called Cuban Convertible Dollars, cannot be bought outside of Cuba.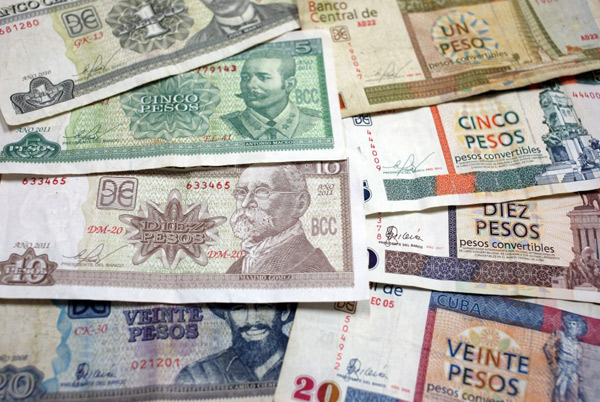 If you want to change money to CUCs in the airport remember that the exchange rate will probably be better in the city. Never exchange money in the street. Always go to a bank; they are fairly handy. Be extremely vigilant and careful not to confuse the CUC with the local currency. Be careful that you are not given change for CUC in Pesos! The National Pesos are what Cubans use for rations and other small items, like ice-cream, fruit, buses, etc. All participants should carry euros in cash. Sometimes credit cards do not work, especially if they are  issued by American banks. It is hard to calculate how much you will need, but 500 euros a month is probably a good amount. There is really not much to buy but going out can cost the same as Europe.
Gifts
If you would like to take t-shirts, pens, trinkets, soap, cologne, clothes, pendrives, nail polish, school supplied, books, toys and other things you might not need but that are easy to carry, the Cubans will appreciate it a lot.
Health
We recommend being vaccinated for tetanus and a hepatitis A. It is a good idea to bring a bug repellent and a antihistamine for bug bites. If you take any type of medication bring it because it is doubtful you can find it in Cuba; even aspirins are prescription drugs.
Hygiene
Never drink the tap water, even for brushing your teeth. We recommend buying 5 liter bottles of water at the supermarket costing 2 CUC. As it is humid, drink a lot. It is also a good idea to carry toilet paper o wipes because the public bathrooms might not be up to your standard. Because of poor pipes, it is not the custom to throw toilet paper in the toilet. You will see a bin next to the toilet for it. Soaps can be bought but It is also a good idea to bring your own soap for washing clothes, personal hygiene and hand-sanitizer. It is not a custom to wash one´s hands a lot in Cuba and the government is trying to establish the custom.
Travel from La Havana to Santiago de Cuba and vice versa
 You might be able to buy an airline ticket with Cubana Aviacion from Europe or online.  If you wait, there might not be any available once in Cuba.
 ViaAzul is 53 cuc.  It is by coach and is a public service for tourists.  It takes 14 hours approximately.
 There is a private and more comfortable bus leaving from the Hotel Habana Libre in La Havana. The tickets are 50 cuc and include lunch.  They can only be bought in person 3 days ahead of time.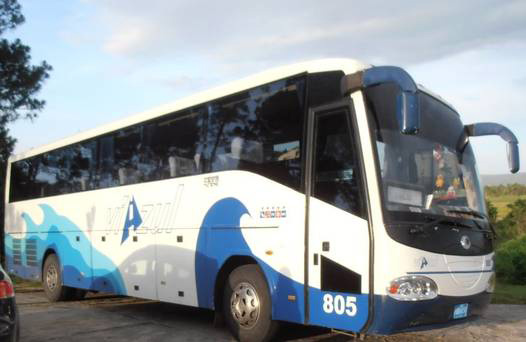 Note: There is a lot of air-conditioning on the bus, so bring a jacket.
Vaccines
There are no mandatory vaccination requirements. Recommended vaccinations are: Tetanus, Hepatitis A. We are advised that there is no risk of malaria. Dengue fever is a known risk in some places. It is a tropical viral disease spread by daytime biting mosquitoes. There is currently no vaccine or prophylaxis available for Dengue, and therefore the best form of prevention is to avoid being bitten. We recommend you follow basic hygiene and take the usual precautions to avoid mosquito bites.
Visas
Steps for obtaining a  visa in Cuba
You will need to get a Cuban tourist card (visa), good for up to 30 days visiting Cuba. It is not especially expensive around 25 USD. For this you should ask at the Cuban Consulate in your city of buy it online. Here is an online visa issuing company for Cuba which will mail you the visa. We also recommend buying the travel insurance online (see above).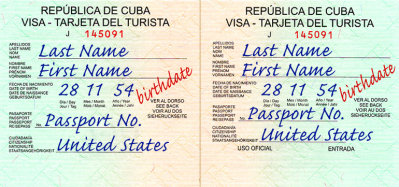 Needed documentation for a tourist visa up to one month which can be extended once in Cuba:
Airline ticket
Insurance
Copy of passport
Form
Fee
After 60 days the visa can be renewed up to 90 days. The cost is around 25 USD and your coordinator will help you buy the stamps to do it.
Weather
Normally Cuba has humid but very good weather; in Santiago de Cuba it is hot or hotter, but in La Havana the spring is can get cool and rainy. Plastic sandals, shoes and bags are better than leather ones. Bring a hat and an umbrella. If you have to choose between them, take the umbrella which can by dubbed as a parasol if necessary.
Work Culture
The work culture in Cuba is totally different from any other country we have seen. It's very important that our participants br aware that there are exceptional conditions in Cuba in every sense of the phrase: we work with organizations and firms where it is necessary to hold meetings in cafes, hotels, or in other public places because the offices have no air-conditioning and no Internet and sometimes power stoppages.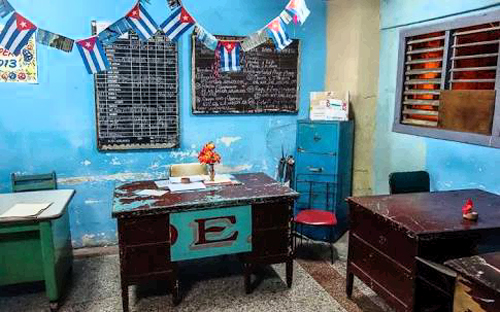 The Cubans are open to all creative solutions. We ask you to bring your computer because there aren't usually any, or very old ones at best. If you want to help and succeed in Cuba, you need to adapt to the conditions and their open work culture which welcomes creativity and interchange.
See our Work Culture in Cuba album in Facebook.