by Rachelle Leung
Cuban State Of Mind - Part 1: La Havana
I started Cuba in Marianao, a borough which is 6 miles away from the city of Havana, the home of my host who I have found on a homestay website. Eileen shared her views as a fresh graduate on how to make a livelihood in Cuba while showing me around the neighborhood, where she insisted I was the only foreigner. Her boyfriend had had to go to Ecuador to work and she was constantly job-hopping or hosting travelers to sustain a living. After my wash with a bucket, I lay on the mattress she put down for me, restless. As much as I appreciated her friendliness, where were my rainbow bubble cars and colonial bricks? I fell asleep while thinking of moving up the date of my flight… (See here full photo gallery)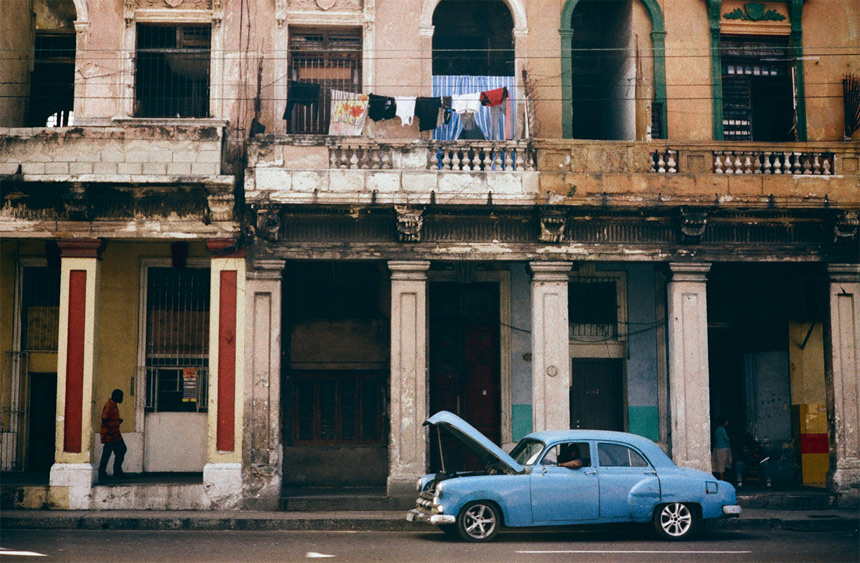 The second day was the orientation of my Spanish course in the University of Havana where I arrived late with my backpacks. A lot of what I have learnt from the course has not lived in me as strong as the answer given by the orientation personnel when asked about the lifting of the blockade. Disconnected, backwards, maybe is how people from outside the country think of Cuba. But we are content. It would not be better if you walked around Havana seeing three tourists and one Cuban. We know this is not a perfect society or government but there's no perfection. Blockade or not, we don't care. They are living a life built on (I believe it was the word he used…) money and things, but we enjoy a life with values and people we care about.. Part of me was touched by his pride in being a Cuban, while part of me thought about Eileen…
Havana is a city made for walking, enjoy the sunkiss, taking a different street everyday. People chill in the doorways, trading back and forth from balconies to street vendors with fruit wheelbarrows.  One greets his pal with trays of two dozen eggs in his hands almost brushed by a bicitaxi  where the driver says 'Taxi?  Taxi?' to you, when you finally withdraw yourself from the peeling-off facade of a colonial building, enlivened by a man with cigar on the balcony waving at you.
Cuban State Of Mind... For someone who knows next to nothing about Cuba, the free walking tour in Old Havana showed how fascinating this island is with history and humor. The indigenous people, colonization, multi-cultures, revolutions, recession, Fidel, Obama, tourism. I am impressed by the Cuban mentality, with all the ever-changing influences from across the ocean, it stays forever optimistic, laid-back and cheerful. We have to! This was the guide's response. I wish the world would share some of this commitment to smiling.
Talking to strangers, is a way to dig into the Cuban reality. One of my goals set for this journey was to be engaged in a volunteer project, a way to practice Spanish and to get to know the culture outside the frame of tourism and hustlers. I was looking into the possibilities of a cultural, eco or artistic tour in which the profit  would go back to the local communities. So you're going to help the Cubans rip us off?! Ouch, I felt a punch in my face when a tourist said this after three days in the Capital feeling like they have had enough of the country.
For some reason, as an individual it seemed to be difficult to find a project speaking only un poquito Spanish. But I did not give up looking till the expiration of my first visa. Meanwhile, I heard some stories here and there about how the gradual increase of tourism was making a change in Cuban lives. There is a significant difference between the income of the people working in tourism and those who are not. Driving a taxi or running a homestay (casa particular) makes a dozen times more than being a doctor. The increase of influences from abroad, income and materials seems to create a divide of values among people. I feel strong Cuban pride specially from those who have experienced the revolution and are content with sufficiency. Others are eager to flee the country, to see the world, to have more, to fight for a change that others are too reluctant to care about.
Ironically, I was in a situation where I shouldn't have been bothering about others' problems but mine. None of my credit cards worked and I used up my cash. Mother Nature did not let me starve. Some friends I had met during my stay in Cuba gave me a hand. And it was my turn to flee the country.
On my last weekend, I took a trip to the city, Pinar del Río, where I thought of going further to María la Gorda for a dive. But I was living on a budget so we went to Cayo Jutías instead.  In order to return to Havana, I hopped on a truck (camión) by chance where I was the only foreigner. It took me two more buses and a friendly uncle's accompanying me to get back home (home to me is a state of mind, not necessarily Hong Kong). I spent only a third or less for those rides.  It was due to the inexplicable excitement of this experience together with the almost zero progress in Spanish and volunteerism that I decided to come back to Santiago de Cuba.
Cuban State Of Mind - Part 2: Santiago de Cuba
This was when BESTPROGRAMS came into the picture. With my excessive access to internet, I connected with BEST during my escape in New York City.  They have exactly what I was looking for, an internship with a local NGO working on a documentary on a Cuban artist; a one-to-one Spanish course; and a caring homestay (casa particular). My wish came true and I jetted off to return to Havana.
My thrill for truck (camión) rides persisted from Havana to wherever it went, as long as I arrived in Santiago de Cuba within a week. So, Camagüey it was. First night surprises are my fate. The camión broke down halfway there, somewhere in Cienfuegos Province. Two hours later, with the assistance from the Police, we got onto another bus and another one later. I didn´t mind the delay of the ride, but found the night funny with a mini-campfire we made on the highway and the jokes in Spanish that I didn't understand.
For the rest of the week, I hopped from Camagüey to Guardalavaca and then Bayamo in camión before arriving in Santiago de Cuba. Again a first night surprise was my fate. I did not exactly stay through the first night as I hopped back on a camión with some new friends for camping and came back just in time for my internship with BEST.
Waldo Regueiferos is a Santiaguero, the director of the documentary film and BEST´s representative in Cuba, my guide, caretaker, translator, friend…. He together with my Spanish teacher, Cecilia, has done his best to show me the quality and the authenticity of Santiago de Cuba. The time I spent at Cecilia's home was filled with tropical fruits, pasteles (pastries), her cooking, cultural insights, sharing of our stories from abroad and of course, all in Spanish.
Although the time I worked on the film project was short, it was rewarding. The documentary would act as a promotional clip for the Cuban painter, Alexei Cutiño's, exhibitions in Europe. The latest news is that it has been accepted in an online competition. I am happy to be part of this.  I was introduced to a Alexei in Palma Soriano, a town outside of Santiago de Cuba. I was blessed to be invited to his studio and home for a stay during the shooting of the documentary, to meet his family who were so warm and caring. Alexei showed the importance of his family which is the core of his life. This amazed me as it is a tradition from my birthplace but has faded with time.
Again the theme of the love and care of families surfaced everywhere during this second visit to Cuba. The following weekend after the Mother's Day celebration with my casa particular, I headed further eastward to Baracoa.
Again a first night surprise was my fate!  On the bus from Guantánamo to Baracoa, Dina, a girl from Baracoa studying in Guantánamo, invited me over for a stay as it was getting too late to look for the farm where I had planned to stay which nobody knew exactly where it was. I take every offer as a blessing. She lived in the suburb of Baracoa, Elda, where most of her neighbors were her relatives including dozens of cousins running around chasing each other. I found myself happily immersed in endless flows of palm trees, banana trees and fences of bamboo. This was exactly what I had imagined when hoping to get away from the hustle of cities and tourists.
This settlement sat next to Río Miel, where they washed the trucks and clothes while we took a bath. Dina walked me around the community, throwing hugs and kisses from shack to shack, cousin to cousin.  Of course her mom fed me with a huge plate of delicious rice, beans and some veggies. Food and drinks are the forms of greetings here, and I do not mind at all.  With a gang of cousins running around us taking pictures with my camera, I told Dina how much I loved this as it was so different than what a family gathering was back home. Mine is a smaller family and we get to meet a couple of times a year when we talk symbolically. Dina was making sure that I was telling the truth about enjoying this rustic stay while I was captivated by some luminescent beetles.
Dina's parents offered me their only bed in the house while they slept on the ground in the living room. Once again, I was overwhelmed by their hospitality and felt bad. I don't even know the names of my neighbors back in my hometown. I hoped they felt my deepest gratitude from my ¡Muchas Gracias! and the turrón de coco I brought them from town the next day.
During my weekend in Baracoa, we hiked to Sabanilla; waded across the Río Mina; crashed a family fiesta by the river with rum, music, roast and swimming. When nature smiles, you take it all in. About half a year ago, Hurricane Matthew destroyed Dina's original home not far from here while crushing towns across the Caribbean. All they had left was a small bed. They built another home little by little. I thought of when Dina insisted to pay for my rides when commuting to the town, they didn't have much but enough pride.
They were going to move into a new home in a month. I bet they are settling in now. I tried to locate my memories on Google Map after coming back. It turns out neither Elda nor Dina exists on Google or internet. Dina did not have an e-mail as internet was not exactly part of her routine. Like it never existed, but only in my memories.
All you need is love, love is all you need… I sang with the driver's steering next to me in a camión on my way back to Havana from Santiago; feeling grateful for my last ride of cheerfulness and hospitality. Cuban big cities might appeared to be just an eye-candy strolling down the beach which draws you in. While you are swirled around by the pastel colors and palm trees, breathe, there is more than meet the eyes. (See here full photo gallery)
* * *
Rachelle (Tsz Wai) Leung was born and bred in Hong Kong and studied Cinematic Art at the City University of Hong Kong graduating in 2014. She is a soul constantly roaming from culture to culture, powered by curiosity and inspired by Rays. Breeze. Bumps. Drops. Waves. Woods. Spines. Peaks. Palms. Pines. Blooms and Faces. From Nature, she came to explore, to learn, before becoming one with the Nature again. She will soon be in Dominican Republic as an intern/volunteer, learning to give back. Besides travel, her passions are photography, bike riding and yoga and she reflects these passions in her photography and blogs on Instagram and Facebook (Instagram.com/MintGreenAndBurgundy; MintGreenAndBurgundy.net; https://www.facebook.com/racheleung619)