Au Pair: Become a Walking Sponge
by Tisha Hall
I put my luggage down and stepped out onto the verandah overlooking the suburban neighbourhood that would be my home away from home for the next three months. I couldn't help but pat myself on the back: "Well done! You did it!" I had left my job, apartment, family, friends (and cat) – my life as I knew it – behind and traveled across the Atlantic Ocean to a foreign land. It would be the beginning of the most memorable period of my life thus far: as an Au Pair for a family in Madrid.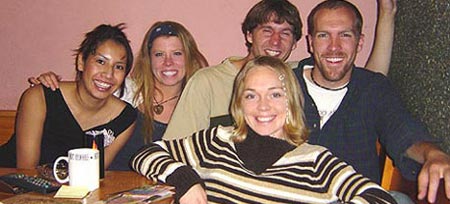 Before I had even set foot on my Europe-bound flight, I was already aware of the magnitude of my decision. I became even more so through people's reactions, which included words and phrases like "lucky," "jealous," "brave" and "I wish I could." So to everyone reading this and thinking "I wish I could," you can and you should.
Chances are you've never been an Au Pair before, or have never 'lived in a foreign language.' But there's something incredibly stimulating and exciting about the unknown and you may be surprised at how well you rise to the occasion. Skills that you already possess will be honed, those that you lack will be learned, and those that you don't know you have will be unearthed. So you'd like to be more:
Flexible – try spending your days with children who may shower you with hugs and kisses today and throw killer tantrums (in a language you don't fully understand, no less) tomorrow.
Resourceful – try finding creative, exciting ways to engage children while making learning a foreign language fun…for at least three months!
Creative and Patient – try haggling in an unfamiliar tongue with a street vendor or asking directions from a bus driver who doesn't understand you, while an impatient queue grows behind you.
Open and Daring – try a delicacy you never would have considered previously. Dig in to a meal that's staring back at you…literally!
As priceless as each of these qualities is, if I had to rate them, openness would be the most valuable. Become a walking sponge. Soak in every experience, every sound, smell, taste, every location. Absorb the language and culture and do not make the mistake of letting the richness of your new 'home' go by unnoticed by focusing on the differences and on what you prefer about your homeland.
Make every single encounter an enriching one: be it with your taxi driver, the old gentleman waiting with you at the bus stop, the housekeeper or, you never know, the attractive local who's caught your eye. To this day I reminisce fondly about the kindness of strangers: the old lady seated next to me on a bus who gave me the novel she was reading because she had another copy at home, or Angela, the young lady from El Salvador that I met at a bus stop. She had very little money, but invited me to her home and cooked me a lovely meal. The list goes on.
Two things I strongly urge you to take full advantage of, regardless of the country and program of your choice, are the opportunities to travel and to learn a new language. So much of the richness of a country lies in its varied landscapes, architecture, languages and dialects. Multilingualism is becoming more and more of an asset in today's 'global village'. It still amazes me that three years ago, before my time in Spain, I wasn't remotely bilingual and now Spanish is my second language.
So you've weighed the pros and cons, examined your expectations and doubts and you're all set. You're armed with your wit, resilience, willingness to learn from and adapt to new surroundings. You've packed your charm, creativity and sensitivity. Guitar and winning smile in tow, you're just about ready to burst into verse one of Rodgers and Hammerstein's I've Got Confidence. But alas, your new 'family' is not quite the Sound of Music's von Trapps and it turns out that Climbing Ev'ry Mountain is easier sung than done.
I could easily give you the airbrushed version, but life as an Au Pair or intern in a foreign land will not necessarily be a bed of roses. There'll be good and bad days, exhilarating and frustrating experiences, moments of self-doubt and insecurity. In short, exactly like life at home. So approach this venture with the appropriate balance of optimism and realism and you'll do just fine.
They say "nothing ventured, nothing gained" and a similar Spanish proverb professes: quien no se arriesga, no gana. There's so little to lose and so very, very much to gain that the question should no longer be why you should embark on this journey, but why not!
---
Tisha Hall
Toronto, June, 2005
tishakhall@yahoo.com