Best Programs Launches New Website: Edu-travel Package Programs
From October 1, 2016 Best Programs proudly announces the launching of its new website making edu-travel even more accessible for experiential learning in selected countries worldwide. Programs are all set to start immediately with no age or origin restrictions. (Versión en español más abajo)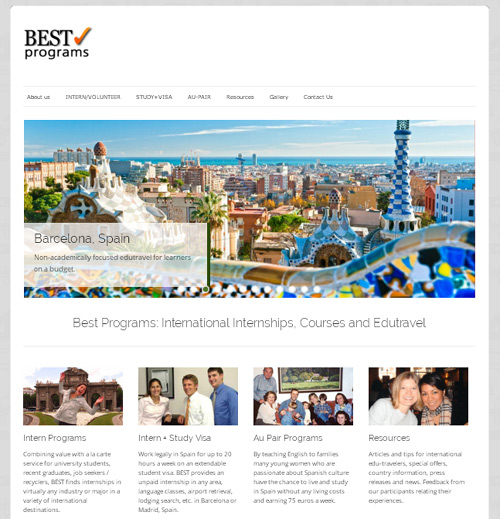 BEST's spirit is reflected in the design and technology of the new website: dynamic, aesthetically pleasing, easy to use. Its aim is to provide a comfortable platform giving the user the confidence and the knowledge to make the necessary decisions to organize an average stay of 3 months abroad, where they will live and work like locals. BEST provides an attractive option to learn and to enrich going abroad with an exciting professional and social life, at competitive pricing.
State-of-the art characteristics present in the new website will help users surf through the information available:
tendency to use "Storytelling" which is made easier with the new Blog
tendency towards minimalism ("less is more", presence of negative spaces, fonts without images, space between the elements)
responsiveness whereby the page is compatible with any device, navigator or monitor
easy to find, search engine friendly
widget for a slew of applications such as: Shop, Gallery, Blog, Vlog, Info-bar, etc.
What can be learned during a three-month internship in a foreign country?
Programs are designed in packages to ease one into a new professional culture within an independent but supported atmosphere. In the long-run this is a journey of many years and might not suit everyone. BEST`s programs guide students to understand how business and social environments work outside of their home-country paradigm, and how to develop personal and professional opportunities. Students leave with practical and applicable skills that reflect their individual goals and the ability to continue learning. Some even are offered employment.
About BEST
BEST Programs, a Spanish firm based in Madrid, Spain, has been making it possible for participants to live, work and study abroad since 1997. This will be its fourth website to date dedicated to learning through experience. BEST was finalist in the GoAbroad prize for Innovative Educational Internship Programs in 2015. Its main concentration is on professional internships and practical language improvement in non-academic settings.
"The reality is that the world needs more life-long learners who understand that professional and personal development go hand-in-hand. BEST Programs targets participants who are committed to continual education and traveling with a purpose." – Jill Arcaro, CEO and Founder
About Pricing and Dates
Continuous registration every week throughout the year:
Europe, including Russia
1790 euros/2 months
1890 euros/3 months or more
Cuba
550 euros/one week
900 euros/two weeks
1300 euros/3 weeks
1500 euros/month
2250 euros/6 weeks
Edu-travel Package Programs: Destinations
Program Locations:
CONTACT
Jennifer Wayworth, Business Development Manager
BEST Programs lanza nueva página web: Edu-viajes al extranjero
A partir del 1 de octubre el año 2016 BEST Programs se complace en anunciar el lanzamiento de su nueva página web que nace con el objetivo de hacer los edu-viajes aún más accesibles. Dedicados al aprendizaje no académico y basados en la experiencia, los programas de prácticas en empresas de BEST comienzan cada semana, sin restricciones de edad o procedencia. (Versión en inglés más arriba)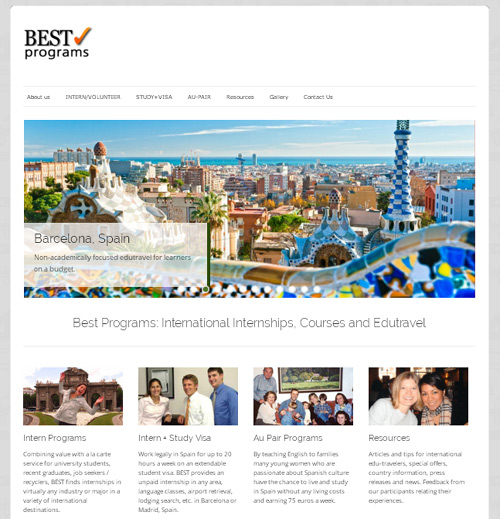 El espíritu de BEST se refleja en el diseño y la tecnología de la nueva página web: dinámica, estéticamente agradable y fácil de usar.
Su objetivo es proporcionar una plataforma cómoda que dé al usuario la confianza y el conocimiento para tomar las decisiones necesarias para organizar una estancia media de 3 meses en el extranjero, donde vivirá y trabajará como un nativo. BEST ofrece una opción atractiva para aprender y enriquecerse en al extranjero con la vida profesional y social, a un precio competitivo.
La características tecnológicas presentes en la nueva página web ayudarán a los usuarios navegar a través de la información disponible:
una tendencia a lo narrativo (Storytelling), que se plasmará adecuadamente con el nuevo Blog.
tendencia hacia el minimalismo ("menos es más", la presencia de espacios negativos, fuentes sin imágenes, espacio entre los elementos).
Responsiveness, con lo cual la capacidad de respuesta de la página es compatible con cualquier dispositivo, navegador o monitor.
fácil de encontrar en los motores de búsqueda, SEO.
Widgets para variedad de aplicaciones: Tienda, Galería, Blog, Vlog, Info- bar, etc.
¿Qué puede aprenderse durante una práctica de tres meses en un país extranjero?
Los programas están diseñados como paquetes para ayudar a la adaptación en una nueva cultura profesional dentro de un ambiente independiente, pero apoyado por un coordinador local. A largo plazo, se trata de un recorrido de años y podría no ser el momento apropiado para todos. Los programas de BEST muestran a los participantes cómo las empresas y los entornos sociales funcionan fuera del paradigma de su país de origen, y ofrecen muchas posibilidades para desarrollar oportunidades personales y profesionales. Los participantes terminan con habilidades prácticas y aplicables que reflejan sus objetivos individuales y la capacidad de seguir aprendiendo. A algunos incluso les ofrecen empleo.
Sobre BEST
BEST Programs es una empresa española con sede en Madrid, que desde 1997 organiza edu-viajes para ayudar los participantes a vivir, trabajar y estudiar en el extranjero. Esta será su cuarta página web hasta la fecha, siempre dedicadas al aprendizaje a través de la experiencia. BEST fue finalista del prestigioso premio de GoAbroad para Inovación en Programas de Prácticas Educativas en el año 2015. Su concentración principal está en prácticas profesionales y la mejora de idiomas en ámbitos no académicos.
"La realidad es que el mundo necesita más aprendices de por vida que entienden que el desarrollo profesional y personal van mano a mano. BEST es un programa educativo comprometido con la educación continua y los viajes con más propósitos que lo típico sol, playa y monumentos." (Jill Arcaro, CEO y Fundadora)
Precios y fechas
La matrículas son continuas, todas las semanas durante todo el año:
Europa, incluyendo Rusia
1790 euros / 2 meses
1890 euros / 3 meses o más
Cuba
550 euros / una semana
900 euros / quincena
1300 euros / 3 semanas
1500 euros / mes
2250 euros / 6 semanas
Destinos
CONTACTO
Jennifer Wayworth , Gerente de Desarrollo