Traveller Review Awards for 2022
Traveller Review Awards for 2022 recognizing who made travel accommodation experiences more memorable for travelers by providing incredible travel experiences amidst a year (2021) of untold challenges for the entire industry. BEST Programs increased annual prize average in 2021 and 2022 up to 8.9 over 10. Travelers voted on cleanliness, staff and location most when reviewing award-winning properties.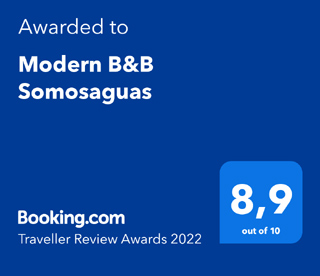 These preferences are consistent with global trends, which found staff to be the highest rated attribute among the Traveller Review Award 2022 winners, followed by cleanliness and location. With consumers increasingly conscious of health and hygiene, notably, on average, winners had a cleanliness score that was 17% higher than the average cleanliness score for non-winners, suggesting it may be a differentiator for a more perfect welcome after staff connection.
¡Hemos recibido el premio Traveller Review Awards, 2022!
Los premios Traveller Review Awards para 2022 reconocen la capacidad de hacer que las vivencias en alojamiento de los viajeros sean memorables, al brindarles una grata experiencia en medio de un año de tremendos desafíos para toda la industria. Además, la puntuación recibida ha aumentado con respecto a los años 2017-2020 hasta 8.9 sobre 10.
Las preferencias de votación de nuestos huéspedes son consistentes con las tendencias globales según las cuales el trato personal es el atributo mejor calificado, seguido de la limpieza y la ubicación. Con los consumidores cada vez más conscientes de la salud y de la higiene, los ganadores de este año obtuvieron una puntuación en limpieza un 17% más alta que la media de los no ganadores, lo que sugiere que puede ser un aspecto diferenciador de una bienvenida más perfecta, tras la buena conexión con el personal.