Au-Pair Program – Location: Barcelona, Spain
How it works?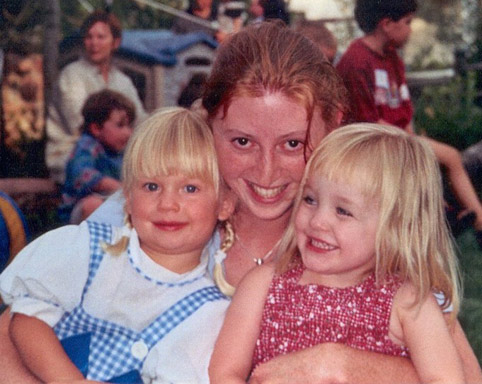 In exchange for childcare in English, au pairs are treated as family members while they take advantage of cultural and educational opportunities.
One of our participating Spanish families invites you as an au pair to assist with childcare duties speaking in English for two to five hours a day, five days a week. Room and board are automatically included. When you have accumulated 25 hours, you will receive a 75 € stipend, approximately 100 USD.
We hope that for you the exposure to a dynamic country like Spain, enjoyed from the security of a stable family environment, will insure lasting relationships and enduring memories for years to come.
The Language Classes
To help you adapt better this program provides language support by combining studying in an established Spanish academy in Barcelona while you are living with a Spanish family. The academic services include grammar, vocabulary and conversation classes (depending on your level). The language classes are an integral part of the program because they provide cultural activities and they give you contacts with peers.
Fun and Cultural Activities
You will also have included organized activities for free or at student prices with the opportunity to make many friends, including Spaniards.
Au-pair Program Conditions Agreement
| | | |
| --- | --- | --- |
| FAMILIES | AU PAIRS | BEST |
| 1. Agree to treat the au pair as a family member. | 1. Agrees to provide the contracted number of hours of childcare and child related services per week and to baby sit according to the program's stipulations. | 1. Will provide emergency contact numbers to the au pair. |
| 2. Will allow 2 free days per week and give 2 weeks notice in case of dismissal. | 2. Agrees to speak English with the children of the family. | 2. Will provide the names of private or public enterprises offering educational opportunities and health related services. |
| 3. Will allow to attend classes and cultural activities. | 3. Agrees to share ordinary household chores but not heavy housekeeping.. | 3. Will act as a liaison between the families and the au pair to assist in clarifying expectations or resolving disputes. |
| 4. Will pay 75 Euros (approximately 100 USD) a week in exchange for 25 hours of childcare. | 4. Is responsible for personal expenses such as telephone bills, cost of classes and transportation. | 4. Will replace the au pair in the unlikely event that any problems cannot be arbitrated, provided that all of Best's suggestions have been followed. |
| 5. Will provide private room and board. | 5. Will give 2 weeks notice in case of an early departure and will not take any action in this respect without previously notifying BEST. | 5. Promises to screen and interview every potential host family. |
Terms:
In consideration of Best Programs, by submitting an application for placement in the Work-Study (Au Pair) in Spain program, you
A. promise that all information given in the application is accurate and complete.
B. agree:
to abide by all appropriate regulations and laws of Spain.
to carry out your duties as an au pair to the best of your ability.
to pay your way, to and from your home country and Spain.
to contract health/accident insurance.
to stay as long as you have indicated on your application.
indemnify BEST Programs and their staff against any loss or damage suffered by any of them or any claims made against them as a result of any breach or negligence by me during my participation in the program.
Fees
Our fee is  1100 Euros for 3 months, 1000 Euros for 2 months or 900 Euros for one month. The 2 and 1 month options are only open to summer applicants. To see a list of what is included, please see the Features tab.
Renovation and extensions over 3 months are free (not including classes or insurance).
There is a 300 EUR deductible registration fee. Please read our Conditions and Terms Agreement.
Personal items, communication and transportation costs are the au pair's responsibility.
Link for currency exchange rates from Euros to US Dollars and other currencies are found here.
Methods of Payment:
1. Paypal payment to: best@bestprograms.org
This can be done easily with a credit card from our safe Payments´ Area here.
Refund policy:
Cancellation prior to 30 days before starting the program entitles you to a 100% refund.
Cancellation15 – 30 days prior to starting the program entitles you to 50% refund.
Cancellation 0 – 15 days prior to your expected arrival does not entitle you to any refund (0%). Neither do we refund if cancellation occur once in Spain.
Your travel insurance, beside health related occurrences, should cover unexpected emergencies which might cause cancellations and theft.
Legal Notices, Terms and Cancellation Policy here