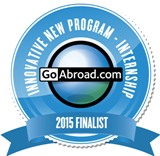 Posted on May 8, 2015 by admin in Best News

With pleasure we announce that on April 17, 2015 in Colorado, the BEST Programs Director, Jill Arcaro, was selected as a finalist for the GoAbroad Innovation Award for their Internship Program in Cuba. The prestigious award from the most comprehensive educational website on the Internet, chose BEST´s La Havana and Santiago de Cuba programs in […]

No Comments. Continue Reading...